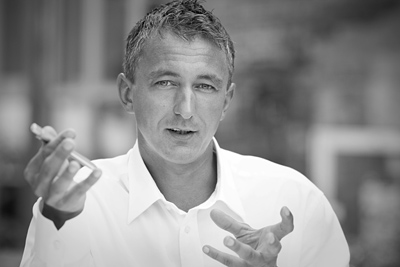 Dipl.Ing.arch. Ondrej Bober
chief architect

Bluhm Partner AG - Mníchov, Bluhm Partner s.r.o. - Bratislava
www.bluhmpartner.com
Green heartbeat/ECG? central location Mileticova 60 in Bratislava
The newly renovated facade outlines nice refreshment in the form of green vertical lines. "Frequency of Street, movement and life is symbolically transferred to the facade as in the form of recorded beats. We also disrupted the simple horizontal structure and each apartment or suite will be unique."
Miletičová street becomes attractive pulsating artery with free housing for all who want work and shopping nearby.
Movement and life are symbolically transferred to the heartbeat of the street facade.
Night view of the object offers original game lighting, colors and materials.
Architects Bluhm Partner rid of heavy building block of railings, replace it with a light perforated type parter and extension to encapsulate corten cladding, which highlighted the exterior color scheme and made ​​the building a new member orientation.
To offer this project will be added 152 new flats and apartments in an interesting central location.
The potential candidates will have wide spektrum of apartments decided to choose.

We create unique projects for unique clients.
Autor cooperation and construction/technical part VIEST ARCHITEKTI s.r.o.